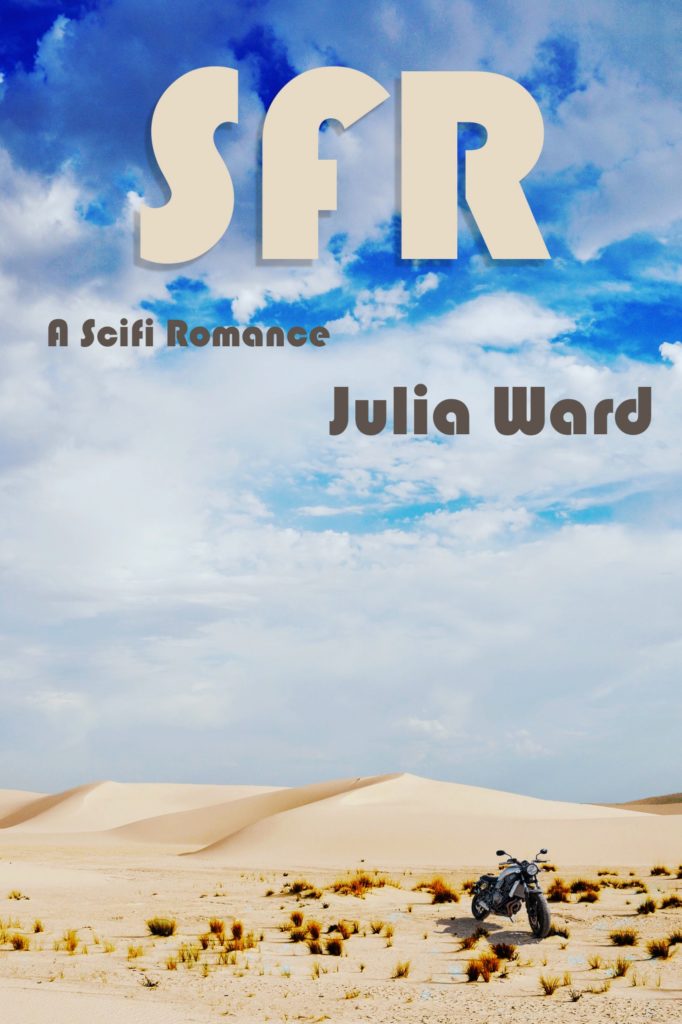 The Half-Fast Writer is happy to announce:
SFR by Julia Ward
Sometimes things have to get worse before they can ever be better.
And Mers's unhappy life is about to get worse…
TWID-Security agent Vayg is deep undercover. If she can get back to Rainbow city, she can bring down a crime boss. Unfortunately, she's been mortally wounded and is lying in the desert along with her now-dead attackers.
Raised to hate people, especially women, Mers avoids them by wandering the desert, scavenging as winds shift the sands. Upon witnessing a fight far off, he waits for the outcome. When all three people fall to the ground and don't rise, Mers races across the desert to collect their now-relinquished panel truck and motorbike. He and Teah, his cow-like whake, reach the machines only to find the woman who owned the bike isn't as dead as he'd hoped.
Forced to obey the one rule of kindness his father taught him—hospitality—he agrees to hide her from the men who hunt her.
Never having lived in close quarters with anyone but his controlling father, Mers is confused by Vayg, the embodiment and antithesis of all he thought women were, and by the many new feelings she invokes. And as Vayg finds comfort and safety under the shelter of a man whose bookshelf is filled with anti-fem books, she experiences her own confusion.
Can a man who has no idea of what love is, learn, or will Vayg have to forget the only man she's ever felt at home with?
(this book contains adult situations and violence)
This book is availabe on
Kobo, Amazon, B&N, and iBooks and during the week of March 31-April 6 can be grabbed for free.